"Mark Dunlea has worked as hard as anyone in America to tamp down the fire of climate change. And because he has decades of knowledge of how to work the system from inside and out, he's been particularly effective. Now you can take advantage of all that hard-earned wisdom: this is a book for the practical organizer who wants to make a difference in the biggest fight the earth has ever seen." Bill McKibben, author (The End of Nature), co-founder 350.org and The Third Act
"This book is an excellent primer not only on climate change, its useful solutions, and false solutions we need to avoid, but also on how to implement the good solutions through advocacy. I highly recommend it." Prof. Mark Jacobson, Stanford University, Author of No Miracles Needed: How Today's Technology Can Save our Climate and Clean Our Air
"The climate explosion – record wildfires, droughts, floods, hurricanes, tornadoes, rising sea levels – has made Earth Day Every Day. People who know this keep telling me they want to do something but don't know how. Enter Mark Dunlea whose half a lifetime of organizing around saving the Planet from climate disruptions and other perils is poured into this book, PUTTING OUT THE PLANETARY FIRE. Accurate, easy to read with valuable groups, tools and strategies laid out, Dunlea's book takes away excuses for inaction and motivates for action! If you want to move from knowledge to action, this is your book." Ralph Nader, author, citizen activist.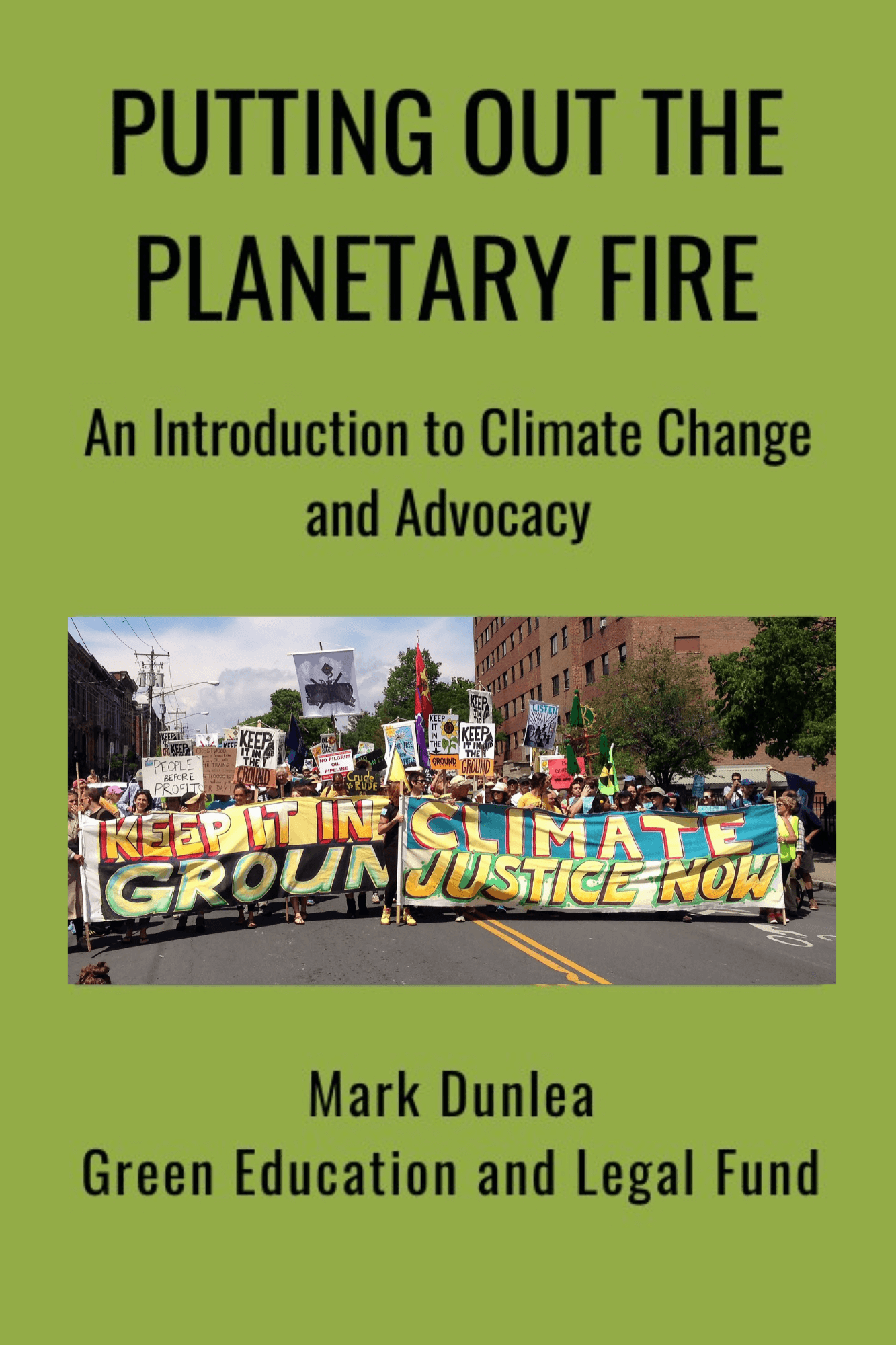 "Mark Dunlea couldn't find a primer on how to fight global warming, so he put one together himself. "Putting Out the Planetary Fire" contains the information everyone needs to understand the crisis that we're facing and — just as important — to become active."  Elizabeth Kolbert, Pulitzer-prize winning author of The Sixth Extinction: An Unnatural History. 
Putting Out the Planetary Fire not only provides top-notch research, but also places advocacy high up on its agenda and goes through all the tools in the advocacy toolbox–from lobbying to rallying to direct action. I particularly appreciate the inclusion of the effects of militarism on the climate, including the need to slash the military budget, stop wars for fossil fuels, and invest the savings in a rapid transition to a clean energy future. It is time to act like it is a climate emergency, because it is! Another World is Possible if we put the common good ahead of the wealth and greed of the 1%.  Medea Benjamin. Co-founder, Code Pink
Mark Dunlea has been widely known and respected as an exceptional social justice advocate and leading environmentalist for half a century.  He and I, a Black veteran civil and human rights activist, have for years, joined in the continuing struggle against racism in all its horrific and devastating forms.  Working together, we recognized environmental racism as another form of institutional racism that has been destructive in so many ways, even allowing the disposal of hazardous waste to be disproportionately placed in communities of color. This book, largely based on Mark's gained experiences, thoughts and knowledge can serve as a valuable reference and guide to promote enhanced understanding of climate change.  That, in turn, will hopefully inspire many to offer solutions and take drastic actions that will ultimately save humanity, something we must do. Therefore, this book is a must read. – Dr. Alice Green, Center for Law and Justice
"Mark Dunlea's comprehensive and sorely needed breakdown of the current issues at play is the new must-read for anyone trying to negotiate their way through the truth and misinformation on climate change today. Mark's dedication, breadth of knowledge, and years of legislative and grassroots organizing experience has made him a driving force in the climate movement and he brings it all to the table in "Putting Out the Planetary Fire". The book is a wonderful resource for both the curious and the hard-core activist. It's a fire hose of knowledge we can all use to help. Thank you, Mark Dunlea." – Lyna Hinkel, founder, 350NYC
Plastic is the new coal.  As the economy (very) slowly reduces the use of fossil fuels for electricity generation and transportation, fossil fuel companies are making a big bet on plastic production.  The production, use and disposal of plastics is a climate killer.  This compelling book covers all the bases, providing you with the information you need to take action.- Judith Enck, Former EPA Regional Administrator, President of Beyond Plastics and happily married to the author
"This book won't gather dust on the shelf. It's full of practical tips and tactics for climate activists. I urge everyone who cares about the future of life on our planet to buy this book and, more importantly, to use it." – Eric Weltman, Food and Water Watch
Mark Dunlea's new book provides a concise summary of planetary fire's threats to agriculture through wild swings of weather, droughts, floods and excess heat, and, importantly, of the ways that farming can contribute to mitigating the climate emergency through indigenous and organic systems, building carbon in healthier soils and food sovereignty. It is time to regulate the biggest farm businesses (CAFOs) and stop pouring money into liquid manure management, synthetic nitrogen fertilizers and herbicides, but even more urgent is to dismantle corporate control with its cheap food policies and return to price supports, price limits, and supply management with mandatory conservation so that buyers pay farms the cost of production and the taxpayers do not get stuck with the bill." – Elizabeth Henderson, lead author, Sharing the Harvest: A Citizen's Guide to Community Supported Agriculture (Chelsea Green, 2007) and co-chair of the policy committee, Northeast Organic Farming Association of New York (NOFA-NY)
"This book is radical because it goes to the roots of the climate crisis in capitalism's built-in drive for endless, mindless growth. It elucidates the system-changing solutions of an ecosocialist Green New Deal. It covers the practical how-to's of effective climate action. It provides what students and climate activists need right now to understand and remedy the accelerating climate emergency." Howie Hawkins, 2020 Green Party nominee for President, author of Green New Deal in 2010
The triple threats of climate collapse, endless war and crushing inequality are all joined at the hip and off the charts. Yet bipartisan priorities are fanning planetary flames on all of them. In this critical hour, "Putting Out the Planetary Fire" provides the science, policy and needed action to remedy the climate emergency. It includes a rapid transition off fossil fuels that would eliminate a key driver of global conflict, and it ameliorates inequality through the Green New Deal, climate reparations and much more. This comprehensive, practical compendium has become my go-to resource to fight these converging fires that endanger us all. I urge you to put it to work like our lives depend on it! Jill Stein, Green Party presidential nominee 2016, 2012
"Effective advocacy on climate change requires we understand the contradictions of the past, capture fear and potential in the present, and confront the future with optimism and no illusions. Mark Dunlea is a public intellectual, a rare breed.  He tells us that the financial, environmental, technological, governmental and popular dots on climate change are connected by a crooked line. His book is alive, charting the signposts of our time. The book will also yield critical insights fifty years from now. Don't just read this book, practice it, including disagreeing with it. And, fifty years from now organizing and progressive thought will be focused on a world where sustainability is assumed and democracy the tool we use to express and resolve our differences," said Tom Sanzillo, Director of Financial Analysis, Institute for Energy Economics and Financial Analysis.