See index to all the chapters for Putting Out the Planetary Fire
– Environmental Injustice in the U.S.
– Racism
– Climate Justice Movement
– EJ Requires a Just Transition
– Raising Up the Voices of the Disadvantaged
– Climate Reparations for the Global South
– International Agreements on Climate finance, Loss and damages
CLIMATE AND ENVIRONMENTAL JUSTICE, AND REPARATIONS FOR GLOBAL SOUTH
 The principal victims of climate change in the U.S. and globally are low-income people and communities of color. This chapter explores the push to center environmental justice in climate action and funding, including the recent agreement of COP27 to provide for "loss and damages" to the Global South.
I have spent most of my adult life working on anti-poverty issues, with a heavy emphasis on hunger and its root causes. The lack of power by many Americans – and global citizens – enables such exploitation and oppression to occur. Climate change must be centered in the various broader movements for justice and true grassroots empowerment. And while corporate greed explains much of the shortcomings of the American political and economic system, racism is an equally critical factor. All discrimination – whether based on gender, sexual orientation, age, national origin – must be ended in order to create the world we need.
One of the key principles of the climate movement is the need to center the principal victims of climate change in the development and implementation of the solutions. The world has a debt that needs to be paid as part of the just transition to a clean energy future. It means listening to those most harmed. It means learning from the wisdom of our Indigenous communities who have a far more sustainable relationship to nature and our fellow beings, developed over millennia.
Pioneered by activists from the Global South in response to the threats facing their homelands, CarbonBrief describes climate justice as "a reshaping of climate action from a technical effort to cut emissions into an approach that also addresses human rights and social inequality. As industrialized nations and corporations have amassed wealth by burning fossil fuels, a 'just' outcome would involve them redistributing more of this wealth towards those having to deal with the consequences."[1]
This book provides a brief introduction to the climate justice movement as well as links to some of the major coalitions and campaigns. Some environmental justice (EJ) issues are included in the chapter on plastics, which includes the major problem of petrochemicals in Cancer Alley in Louisiana and in Texas.[2]  The environmental justice (EJ) and Indigenous communities have also been leaders in opposing gas pipelines (see chapters on campaigns and direct action) and in opposing local sources of pollution.
The call to invest at least 40% of climate funding in disadvantaged communities has been widely embraced by the climate movement and many elected Democrats in the U.S.  As always, the details on implementation are critical. So far, elected officials have largely failed to provide the level of funding required. What's more, the funding from foundations and governments to support climate organizing and advocacy still underserves the frontline communities.
Climate and Environmental Justice, and Reparations for the Global South
Globally, those who live in developing countries are the principal victims of climate change from the greenhouse gas emissions from more developed countries. A similar phenomenon of the poor and people of color being the principal victims occurs within nations, including the U.S.
According to the Center for Climate Justice, climate justice "recognizes the disproportionate impacts of climate change on low-income communities and communities of color around the world, the people and places least responsible for the problem. It seeks solutions that address the root causes of climate change and in doing so, simultaneously address a broad range of social, racial, and environmental injustices."[3]
Wikipedia describes environmental justice (EJ) as "a social movement to address the unfair exposure of poor and marginalized communities to harm associated with resource extraction, hazardous waste, and other land uses. The environmental justice movement began in the United States in the 1980s and was heavily influenced by the American civil rights movement. The original conception of environmental justice in the 1980s focused on harms to marginalized racial groups within rich countries such as the U.S. and was framed as environmental racism. The movement was later expanded to consider gender, international environmental discrimination, and inequalities within disadvantaged groups."[4]
Many leaders of the global climate justice movement are Indigenous people, people from developing countries and small island states, and others on the frontline of the climate crisis. A central demand is a just transition, moving to zero emissions and 100% renewable energy while leaving no one behind, providing green jobs for workers, fair and equitable access to affordable, renewable energy and funding to those countries in need of it. The April 2022 Intergovernmental Panel on Climate Change report warned that if emission reductions policies are not designed around the principles of a just and fair transition, it will likely increase inequality and poverty.[5]

Environmental Injustice in the U.S.
Low-income Americans are far more likely to live in areas where land is less expensive due to the risk of flooding from extreme weather events and from sea level rise. Low-income communities and communities of color also are where polluting facilities tend to be located since those communities lack the political clout of more affluent areas to stop them from being built or located. individuals and communities also have less resources to respond to climate change (e.g., flooding, droughts, heat waves) and their homes are more likely to suffer damage from extreme weather events.
Hundreds of studies since the 1970s have concluded that industrial pollution and hazardous waste sites across the country are located disproportionately where people of color and low-income families are living.[6]
A study of the placement of hazardous waste facilities over 30 years documented that "Minority and low-income neighborhoods and communities in transition are disproportionately targeted by industries that follow the path of least resistance when deciding where to locate hazardous waste sites and other polluting facilities." Low-income neighborhoods and communities of color were already established before these facilities chose to locate there.[7]
Disadvantaged communities have higher rates of health conditions such as heart disease, diabetes, asthma, and chronic obstructive pulmonary disease (COPD). Heat stress can exacerbate such conditions, and warming temperatures result in more pollen and smog, which can worsen asthma and COPD. Low-income individuals are more likely to lack adequate health care, access to medicine, and health insurance. African Americans are three times more likely than whites to live in crowded or inferior housing. Individuals living in homes with poor insulation and no air conditioning are more impacted by higher temperatures. Such housing is more vulnerable to power outages, water issues and damage. Urban low-income areas are 5 to 12 degrees hotter than other areas because they have less green space, fewer trees and parks, and more asphalt that retains heat.[8]

Racism
The legacy of racist housing and industrial policies means black people are 75% more likely than white people to live in fence-line communities close to polluting oil and gas facilities. Black Americans breathe air with 38% more pollution than white people. They are exposed to 56% more pollution than they cause – while white people breathe 17% less pollution than they produce.[9] Even middle-income black people are exposed to more pollution than lower-income white folks.[10]
Research has documented that race has a stronger influence on exposure to pollutants than poverty.[11] Patrisse Cullors and Nyeusi Nguvu, members of the Black Lives Matter (BLM) movement, wrote that, "Racism is endemic to global inequality. This means that those most affected – and killed – by climate change are Black and poor people," which is why we need to center racial equity and justice in seeking solutions for the climate crisis.
This is also true globally. In Latin America, Africa and Asia, issues concerning Indigenous land, the rights of rural landowners, treatment of minority groups and expansion of energy, agribusiness and other industries are central to racial and environmental justice struggles.[12]
In 2005, Hurricane Katrina caused extensive destruction in New Orleans and its environs. More than half of the 1,200 people who died were Black and 80 percent of the homes destroyed belonged to Black residents. The mostly Black neighborhoods of New Orleans East and the Lower Ninth Ward were hit hardest since government funds had gone primarily to shore up levees in white areas earlier hurricanes. White neighborhoods received priority in the rebuild process.[13]
Climate advocates increasingly seek to build links between movements, such as with BLM, as global warming is caused by the same root causes of multiple interlinked crises of hunger, poverty, racism, sexism, classism, ableism, and nature destruction.

Climate Justice Movement
To provide an overview of what environmental justice changes groups are seeking, below are the vision / mission statements of two of the most prominent grassroots coalitions, the Climate Justice Alliance and the Indigenous Environmental Network.
The chapter on carbon pricing also addresses environmental justice concerns with carbon offsets and cap-and-trade programs.
Climate Justice Alliance[14]
The Climate Justice Alliance (CJA) is "a growing member alliance of eighty-four urban and rural frontline communities, organizations and supporting networks…Frontline, community-based organizations have the solutions to the extractive industrial systems that are eroding human's primary means of existence on the planet… Effective climate crisis solutions honor human rights and the rights of nature. Localized democracies that champion community rights to energy, land, water, and food sovereignty are the best answers to combating exploitation. Shared leadership produces community wellbeing and the most innovative solutions to our climate crisis. Workers should be at the forefront of shaping new economies rooted in fairness, equity, and ecological values."
CJA outlines six key goals: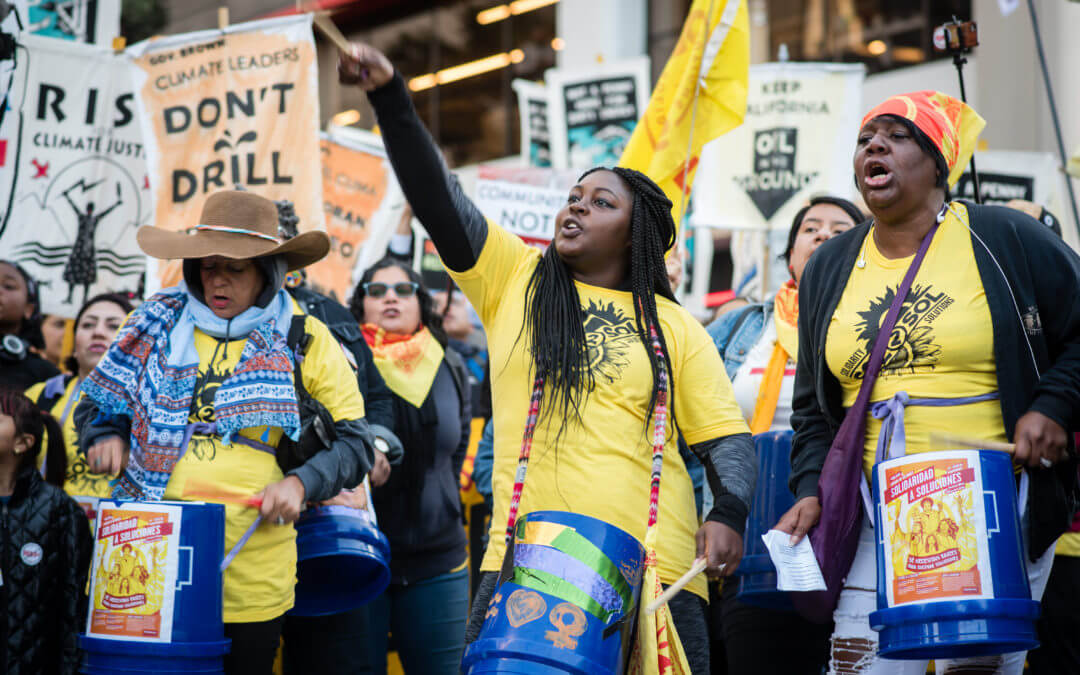 End the era of extreme energy (fossil fuels, nuclear power, waste and biomass incineration, landfill gas, mega-hydro, and agrofuels) which pose extreme risks to local ecosystems and communities.
Reduce carbon emissions in line with what science says is necessary to avoid catastrophic climate change.
Build urban and rural economic societies that offer real-world solutions to the climate crisis and strengthen worker and community governance by advocating for collective worker and community control of land, water, and food resources.
Popularize a framework for a just transition to local living economies by organizing economic priorities that provide a path to sustainable, resilient, and regenerative economic systems that transition away from exploitative and extractive economies.
Collaborate on a national climate jobs program creating ten million good, green, and family-supporting jobs through meaningful work.
Develop and implement infrastructure that protects and promotes cultural and biological diversity, creates local seed banks, and protects communities and workers that are most vulnerable to pollution, climate disasters, and economic disruptions.
Indigenous Environmental Network
Established in 1990 within the U.S., the Indigenous Environmental Network (IEN) "was formed by grassroots Indigenous peoples and individuals to address environmental and economic justice issues (EJ). IEN's activities include building the capacity of Indigenous communities and tribal governments to develop mechanisms to protect our sacred sites, land, water, air, natural resources, health of both our people and all living things, and to build economically sustainable communities."[15]
Coal mining, oil drilling, and fishing and hunting directly infringe upon Native land and values. Thirty-five percent of the United States' fossil fuel is located either directly on or near Indigenous land.[16] An estimated 20% of the nation's known oil and gas reserves lie on tribal lands. And 90% of wells that are drilled on federal and Indigenous lands use fracking.[17]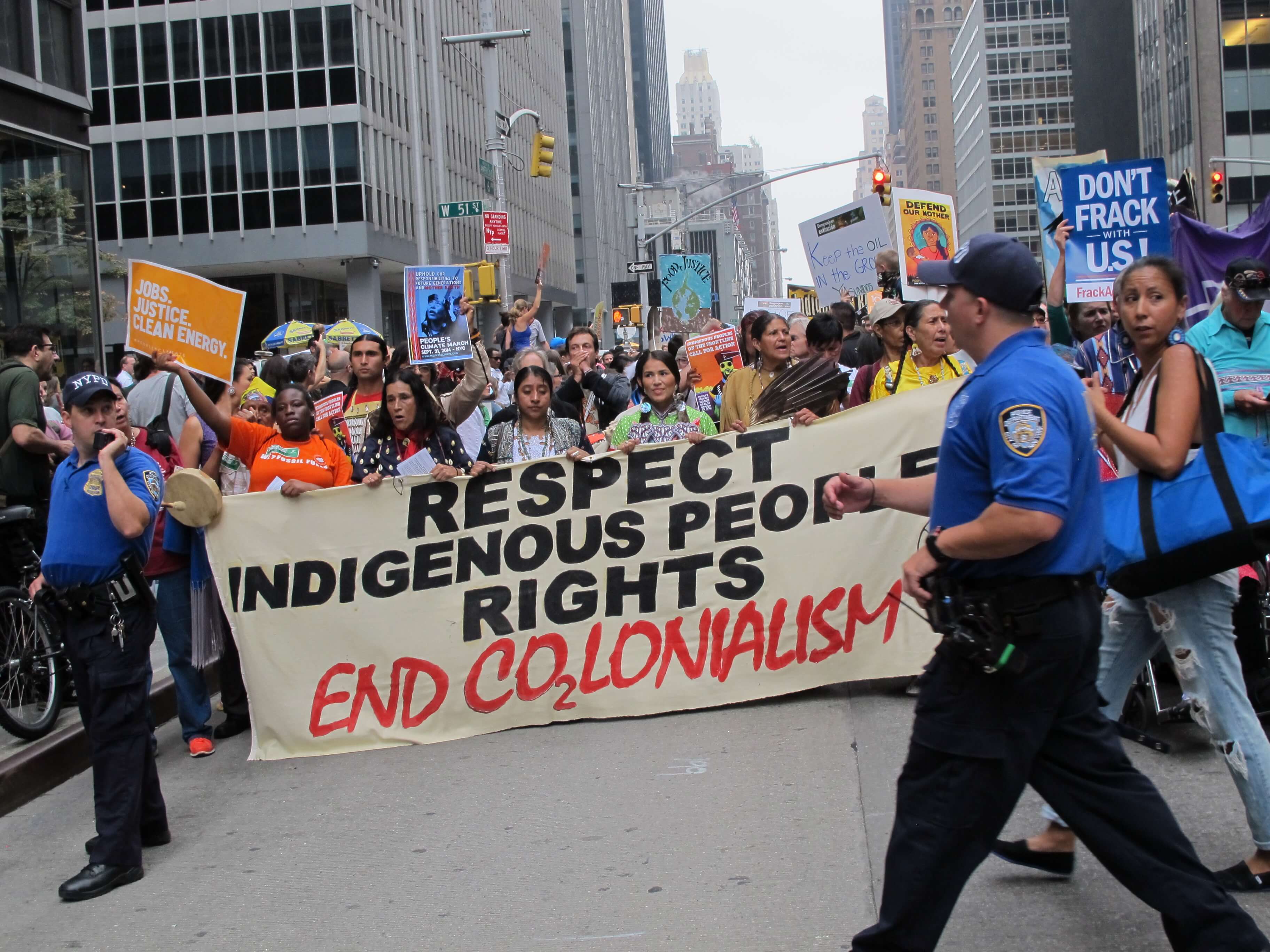 Fossil fuel production causes significant environmental health effects in Indigenous communities, and leadership from frontline Indigenous activists has been critical in fighting these injustices. "Natural resources in the form of oil, coal and gas, uranium, were discovered on our tribal lands, and we were in the way, and so we became the first and worst impacted," according to Kandi White, native energy and climate coordinator with IEN. When White was diagnosed with a stage four sarcoma tumor as a 20-year-old, her first thought was, "now it's my turn." She knew many others with cancer on her Fort Berthold Indian Reservation in North Dakota, a major site of oil and gas production.[18]
Similar problems are seen globally, with the rights of Indigenous peoples often in conflict with the economic interests of extractive companies and governments. According to the Brookings Institute, "Many indigenous communities are located in biodiverse and resource-rich regions with revenue-generating potential for extracting oil, gas, or other resources. The ongoing legacy of colonization plus modern-day exploitation pose significant threats to indigenous communities." While Indigenous people claim rights to more than half of the planet's lands and forests, governments only respect their legal right to about 18% of such lands. Land plays an integral role in the cultural, spiritual, and religious lives of Indigenous peoples worldwide, making them resistant to its destruction to extract fossil fuels.[19]
IEN seeks to raise public awareness of environmental issues that impact on indigenous peoples. Its major campaigns include "Just Transition" and "Keep it in the Ground." It's a core partner in coalition efforts such as "It Takes Roots" and "Grassroots Global Justice." Many Indigenous groups have been on the frontlines of major protests against gas pipelines. Fossil fuel companies and politicians often expect political opposition will be minimal when they move pipelines to Native lands to avoid suburban communities. IEN played a leadership role in the fights against the Keystone XL, Dakota Access Pipeline in North Dakota and Line 3 in Minnesota, all major fights that attracted national attention.[20]
Leaders of thirteen climate groups, including IEN, were arrested in September 2022 for protesting the side deal for the Inflation Reduction Act (IRA) with Senator Manchin in exchange for his vote of support on the act. "Manchin's permitting reform bill… is a direct threat against the inherent sovereignty and jurisdictional authority of our Indigenous nations and its peoples to protect ourselves from this accelerating climate crisis. The content of the bill strips critical NEPA [National Environmental Policy Act] provisions that Indigenous and other environmental justice communities need in order to take action on destructive projects like pipelines. We must uplift and protect our Mother Earth, not repeal the minimal provisions that do exist. We must continue to fight against climate greenwashing and false solutions. We must take real action to keep fossil fuels in the ground," said Tom B.K. Goldtooth, Executive Director of IEN. [21] A week later, Senator Manchin pulled the bill from the budget reconciliation process (although he continued to try to get it passed).[22]
On October 11, 2021, Indigenous People's Day, 136 people, including many Indigenous leaders, were arrested in front of the White House while calling on President Biden to declare a climate emergency and to stop approving fossil fuel projects. The day was the first in a weeklong People vs. Fossil Fuel protest in Washington, D.C., organized by the Build Back Fossil Free coalition.[23]
There has been conflict between some leftists and Indigenous groups in Latin America over the extraction of natural resources to drive development. The turn towards left-wing governments in Latin America around the start of the twenty-first century has been called the Pink Left. Conflicting visions of resource extraction have divided the Ecuadorian Left with struggles between the Ecuadorian government, which focuses on economic development via resource nationalism, and grassroots anti-extractivism activists, who strongly oppose extractive industries due to social and environmental concerns.[24]

Environmental Justice Requires a Just Transition
Climate justice groups want the needs of the principal victims, those who are most harmed by pollution and climate change, to be a priority in the transition to a clean energy economy. This means giving such communities a real role in making climate decisions, and ensuring that the funding, jobs, and benefits from the transition be targeted to the most vulnerable.
Groups often seek a minimum of 40% of climate funding to go to vulnerable communities and workers, a goal that many elected officials and governments have come to embrace, including President Biden with his Justice40 initiative in his climate Executive Order (EO 14008 of January 27, 2021).[25]
Justice40 requires that a minimum of 40% of climate-related funding across seven major policy areas — including climate mitigation, clean energy and energy efficiency, transportation, and sustainable and affordable housing — is directed for the benefit of disadvantaged communities. However, since local and state governments have significant discretion in how to spend federal dollars, there are problems with how Justice40 will be enforced in Republican states which often oppose federal guidance when the Democrats are in charge. For instance, the U.S. Department of Housing and Urban Development found that Texas General Land Office, run by a "scion" of the Bush family, had discriminated against minority residents and violated federal civil rights protections in distributing federal funds providing relief after Hurricane Harris slammed Houston, denying aid to Harris County.
Activists are pushing for more of such funds to be distributed directly through the federal government (about 15% currently). The Department of Energy did incorporate environmental justice considerations into the $8 billion in new infrastructure money that is going toward building regional clean hydrogen hubs (see section on hydrogen in false climate solutions). The Transportation Department has similar guidance for funds for electric charging stations.[26]
Unfortunately, officials are usually better at articulating goals than accomplishing them. Implementation is often thwarted by bureaucratic inertia and red tape and push back from interests that benefit from the status quo. As always, the devil is in the details. For instance, the actual agreements often significantly restrict which climate funds are covered by say the 40% goal (e.g., only some new ones) and may also define "vulnerable populations" to be significantly larger than the percentage of the funds that should benefit them.
New York determining that 35% of (a limited amount of new) climate funds should benefit 50% of the state's population is not really an equitable goal, let alone compensating for past pollution inflicted upon such communities. This was after New York's provisions on environmental justice funding in the 2019 climate law (CLCPA) were severely weakened by the Governor at the last moment and the labor provisions were discarded.[27] Plus 35% of zero is zero if lawmakers do not create any qualifying revenue streams, which they shied away from after prices at the gas pump surged and inflation soared.
Environmental justice groups were rightfully upset by many of the provisions included in the Inflation Reduction Act, with even more opposition to the side deal with Senator Manchin on so-called permitting reform. The Inflation Reduction Act (IRA) mandates vast swathes of federal lands and waters be sacrificed for the ongoing development of fossil fuels and expands subsidies for "false climate solutions,", including hydrogen and carbon capture and sequestration.
The Climate Justice Alliance opposed the law, saying: "The IRA has some strengths but does not fully encompass an equitable or just transition that fully protects frontline communities and those who have been gravely impacted by climate change. We fear that the inflation reduction act is a consistent moment of smoke and mirrors and backdoor deals that cut out the front-line communities and deeply impacted people."[28] Others, including the Indigenous Environmental Network, pointed out that the bill sponsors overstated the benefits of and funding for environmental justice.[29]
Efforts to pass environmental justice measures have had limited success at the state level, although there the situation is better than with Congress. The Bloomberg Government state legislative tracking service found that legislation failed in nine of the sixteen states that have taken up major environmental justice measures in the first half of 2021. The proposals addressed long-standing environmental justice inequities. States have begun to establish higher levels of review of polluting projects that occur in designated environmental justice communities, with ten states having such laws as of October 2021.[30]
New York State lawmakers did pass a bill to require state agencies to consider the "cumulative impact" of all polluting facilities in a community in reviewing permit applications, not just the emissions and impact of the particular facility.[31]
There is a section on a Just transition in the chapter on the Green New Deal.

Raising Up the Voices of the Disadvantaged
One of the key goals of the environmental justice movement is to ensure that those most disadvantaged by climate and pollution have their voices heard in determining solutions. The following "Jemez Principles"[32] for democratic organizing have been adopted for how groups should conduct meetings, especially when different cultures and communities are being included:
Be Inclusive
Emphasis on Bottom-Up Organizing
Let People Speak for Themselves
Work Together in Solidarity and Mutuality
Build Just Relationships Among Ourselves
Commitment to Self-Transformation
Those most affected by climate change must be present from the beginning of the decision-making process, as frontline communities know the solutions needed to help themselves. They are the ones most likely to see to the root of the problems and produce lasting, comprehensive solutions.[33]

Climate Reparations for the Global South
It is the countries in the Global North, which developed their economies through the Industrial Revolution and its heavy use of fossil fuels, which have been the main driver of climate change, accounting for 92% of excess global carbon emissions. Yet it is the Global South, with much lower carbon emissions, which has already experienced the sharpest harm from climate change and will be the principal victims moving forward.[34]
Climate advocates have called for the industrial polluting nations to compensate the Global South for the damages they have caused; assist them in lifting the standard of living for their citizens without being dependent on burning fossil fuels; and share with them the technology and resources needed to respond to climate change.
In a report released just before COP27 in Egypt in November 2022, the United Nations said that "wealthy nations need to give as much as ten times the current levels of funding to help developing countries adapt to climate change or face widespread suffering and displacement as well as increased conflict… It found that developing nations need approximately $200 billion a year, on average, during this decade."[35]
The lifestyles in Europe, North America and other Global North nations have a carbon footprint 100 times greater than the world's poor nations. In 2019, the top 10% of global emitters (771 million individuals) were responsible for about 48% of global CO2 emissions, while the bottom 50% (3.8 billion individuals) were responsible for 12%. According to the Global Climate Risk Index 2021, the poorest countries of the world, while having the lowest emission levels, are most susceptible to the damage produced by climate change. Climate change widens already-existing global inequalities, with the World Bank estimating that climate change may drive an additional 135 million people into poverty by 2030.[36]
Africa is home to seventeen of the world's twenty most climate-vulnerable countries. Climate change is a key factor driving food insecurity in Africa. Climate change means shorter growing seasons for farmers and has contributed to a 40% reduction in agricultural productivity growth in sub-Saharan Africa. Devastating droughts have wiped out livestock. Fish stocks are illegally plundered off the coasts west and east of Africa. Illegal mining and deforestation are polluting rainforests. Endangered species are poached and sold as luxury goods abroad. Funds from these illicit practices often fuel terrorist groups.[37]
Developing countries lack the resources to build infrastructure to guard against extreme weather, rising sea levels, and intense heat waves. Climate change threatens economic production in much of the Global South. Many communities in the Global South still depend on agriculture and ways of life based on the rhythms of the climate. More than half of all people in Africa for instance, rely on farming for all or part of their livelihoods, making them especially vulnerable to climate disruptions. Climate change disproportionately slows economic growth in poorer countries. Most of the climate funding from the industrial countries is focused on mitigation efforts, ensuring that developing countries do not burn fossil fuels at accelerating rates by following the development paths the Global North took.[38]
Some recent studies have highlighted that the wealthiest countries – including the United States – need to phase out their domestic fossil fuel production by 2034 while providing significant financing to countries with lower emissions (including those in the Global South), which could phase out slower.[39]
As Olúfémi O. Táíwò and Patrick Bigger wrote in The Nation, the climate crisis is also tied to the exploitation from "centuries of colonial plunder and enslavement that enriched Europe, and then the U.S., at the expense of the Global South, to the austerity measures of the 1980s and '90s in response to the Third World Debt Crisis, which stifled development and locked many countries into decades of debt dependency. The results of that dependency are, along with the pandemic's economic impacts, congealing into a new debt crisis, with fifty-eight of the sixty-five lowest-income countries somewhere between moderate risk of debt distress to full-blown default."[40]
The international climate finance response so far has focused on two approaches: mitigation (stabilizing and reducing greenhouse gas emissions) and adaptation (altering systems and improving infrastructure to respond to changes from existing climate change). There are also continuing calls for "loss and damage" payments to compensate for the harm from intensifying extreme weather.
Many justice advocates call for "climate reparations." Fatima Ibrahim, co-founder of the Green New Deal in the United Kingdom, says that "Climate reparations are recognizing the debt that the Global North owes the Global South and paying that off soon so that the Global South has the power to transform their own economies and secure the future.'  It means tackling the oppressive historical systems of colonialism and exploitation that left countries without the resources needed to respond to the climate crisis. These resources include financial and administrative resources to transform the economies of countries and build their resilience to the climate crisis."[41]
There are two main ways that have been suggested to pay for climate reparations. The first is litigation to force major fossil fuel companies to make restitution for their role in causing climate change. The second is "corrective justice," where high greenhouse gas emitting countries financially compensate those who have been disproportionately harmed.
Others also call for debt cancellation for poor developing countries that are forced to spend huge portions of their budgets servicing external loans rather than devoting the funds to increasing resilience and meeting the needs of their citizens.[42]
The Bible – the sacred text of Christians, Jews, and Muslims – calls for a Jubilee, a society-wide forgiveness of debts, every fifty years. Ancient civilizations understood that without such a regular reboot of the economy, their societies would stagnate and collapse. In 2021, the Jubilee Debt Campaign found that 34 of the poorest countries are spending nearly six times as much on debt as they are on climate adaptation and mitigation. Much of the climate finance comes in the form of loans, with more than two thirds of the public climate funds between 2013 and 2018 being in the form of debt. For instance, between 2016-2018, Latin America and the Caribbean received an average annual of $12 billion in climate finance, 90% of which was in the form of loans.[43]

International Agreements on Climate Finance, Loss and Damages
In 2009, the world's advanced economies agreed to channel $100 billion to less-developed countries for adaptation and mitigation by the year 2020 – a promise unmet – with the limited funding provided so far largely in the form of loans. The Paris agreement did "strongly urge developed country Parties to scale up their level of financial support, with a concrete roadmap to achieve the goal of jointly providing $100 billion annually by 2020 for mitigation and adaptation while significantly increasing adaptation finance from current levels and to further provide appropriate technology and capacity-building support."[44]
Developed countries expect they will not meet that pledge until 2023 – three years late. In 2021, the developed countries did say they would prioritize grants rather than loans as part of this funding. The United States committed $11.4 billion a year by 2024 – although that requires Congressional approval, which is far from guaranteed.[45] One report calculated the U.S. should contribute 40 to 47% of the $100 billion annual payment, depending on whether the calculation is based on wealth, past emissions, or population. The U.S.'s average annual contribution from 2016 to 2018 was only $7.6 billion.[46]
It is unclear how much impact the existing climate financing, estimated at $79.6 billion in 2019, is having. There is an overwhelming lack of data, as well as evidence that countries have been supporting projects that could harm the climate with some of the funds (for example, Japan finances upgrades to coal plants).[47] Such funding is well short of actual needs. Documents submitted to the United Nations by developing countries as of May 2021 outlined the need for $6 trillion through 2020, with 85% requiring international sources of finance.[48]
Others contend that the estimates of how much climate financing is being provided are greatly overstated. In a 2020 report, the international aid charity Oxfam estimated public climate financing at only $19 to $22.5 billion in 2017–18, around one-third of the Organization for Economic Co-operation and Development's estimate. Oxfam argues that, besides grants, only the benefit accrued from lending at below-market rates should be counted, not the full value of loans. They also say that some countries incorrectly count development aid as going towards climate projects. India's ministry of finance disputed the Organization for Economic Co-operation and Development's estimate of $62 billion of climate finance in 2014, saying the real figure was $1 billion.[49]
When the United Nations Framework Convention on Climate Change was being drafted in 1991, the Alliance of Small Island States proposed creating a fund for countries impacted by sea level rise, with each country contributing based on their share of global emissions and their share of the global gross national product. The proposal was rejected. Loss and damage was included in UN climate talks in 2007 as part of the Bali Action Plan. In 2013, that issue did better in the UN climate negotiations with the formation of the Warsaw International Mechanism on Loss and Damage to avert, minimize and address loss and damage, although no actual funding for loss and damage was agreed to.
The Paris Agreement in 2015 did include a section on loss and damage but once again fell short of actual funding, plus the industrial nations put in a statement that loss and damage "does not involve or provide a basis for any liability or compensation." While the developing countries made a big push at COP26 in Glasgow in 2021, all they were able to secure was a two-year Glasgow Dialogue to discuss possible arrangements for loss and damage funding, along with an agreement to fund the Santiago Network on Loss and Damage, which seeks to give developing countries technical assistance to address loss and damage.[50]
One reason for the lack of progress on loss and damage is that the industrial polluting nations worry that it could be seen as an admission of legal liability, triggering litigation and compensation claims.
A major breakthrough was achieved at the last moment at COP27 in Egypt, when the U.S. dropped its long-standing opposition to loss and damage after the European Union caved to the strong solidarity among the developing countries along with China. Major details such as the level of funding, who should pay, and where the money should go were put off for further discussion. Some countries, particularly China, are still classified as developing countries despite significant economic growth – and large emissions – in recent decades.
The recent massive flooding and damages in Pakistan, one of the 134 developing nations pushing hard on the issue, highlighted its importance. The U.S. and the European Union want to ensure that China will contribute to any fund created — and that China would not be eligible to receive money from it. The developing world also pushed for reforms at the World Bank and International Monetary Fund, pointing out that what they called "excessive" debt payments are a major impediment to their investment in climate mitigation and adaptation measures. Efforts to strengthen emission cuts, however, were unsuccessful, and the proposal to phase out fossil fuel use was defeated.[51]
[1] https://www.carbonbrief.org/in-depth-qa-what-is-climate-justice/
[2]  https://www.ecoenclose.com/blog/plastic-production-cancer-alley-and-environmental-justice
[3] https://centerclimatejustice.universityofcalifornia.edu/what-is-climate-justice/
[4] https://en.wikipedia.org/wiki/Environmental_justice
[5] https://www.cnet.com/news/politics/climate-change-and-the-justice-movement-for-a-greener-future/
[6] https://www.eopugetsound.org/magazine/IS/pollution-disadvantaged-communities
[7] https://news.umich.edu/targeting-minority-low-income-neighborhoods-for-hazardous-waste-sites/
[8] https://news.climate.columbia.edu/2020/09/22/climate-change-environmental-justice/
[9] https://www.climaterealityproject.org/climatejustice
[10] https://www.washingtonpost.com/magazine/2022/06/14/climate-justice-green-new-deal/
[11] https://www.greenamerica.org/climate-justice-all/people-color-are-front-lines-climate-crisis
[12] https://climateanalytics.org/blog/2020/black-lives-matter-the-link-between-climate-change-and-racial-justice/
[13] https://news.climate.columbia.edu/2020/09/22/climate-change-environmental-justice/
[14] https://climatejusticealliance.org/about/
[15] https://www.ienearth.org/
[16] https://reimaginerpe.org/node/307
[17] https://rmi.org/native-energy-fossil-fuels-renewables/
[18] https://www.hsph.harvard.edu/news/features/fossil-fuel-extraction-harming-indigenous-communities/
[19] https://www.brookings.edu/blog/up-front/2020/08/07/uncommon-ground-the-impact-of-natural-resource-corruption-on-indigenous-peoples/
[20] https://en.wikipedia.org/wiki/Indigenous_Environmental_Network
[21] https://www.ienearth.org/breaking-the-heads-of-13-climate-ej-orgs-are-on-capitol-hill-in-dc-right-now-risking-arrest-to-denounce-senator-manchins-dirtydeal-to-fast-track-fossil-fuel-projects/#
[22] https://www.commondreams.org/news/2022/09/27/people-power-has-won-day-manchin-dirty-deal-defeated
[23] https://www.desmog.com/2021/10/11/indigenous-136-arrested-white-house-fossil-fuel-protest/
[24] https://www.berfrois.com/2021/04/extractivism-in-ecuador/
[25] https://www.federalregister.gov/documents/2021/02/01/2021-02177/tackling-the-climate-crisis-at-home-and-abroad
[26] https://insideclimatenews.org/news/05062022/red-states-still-pose-a-major-threat-to-bidens-justice40-initiative-activists-warn/; see also https://rooseveltinstitute.org/wp-content/uploads/2022/04/RI_Justice-40-Federal-Budget_ExecSummary_202204.pdf
[27] https://www.thecity.nyc/2022/5/2/23054217/billions-ny-climate-law-disadvantaged-communities-flood
[28] https://climatejusticealliance.org/the-inflation-reduction-act-is-not-a-climate-justice-bill/
[29] https://www.ienearth.org/the-inflation-reduction-act-of-2022-is-not-a-climate-bill/
[30] https://news.bloomberglaw.com/bloomberg-law-analysis/analysis-state-laws-are-codifying-environmental-justice
[31] https://www.weact.org/2022/04/we-act-applauds-new-york-state-legislature-for-passing-bills-to-reduce-the-cumulative-impacts-of-pollution-on-disadvantaged-communities/
[32] https://climatejusticealliance.org/jemez-principles/
[33] https://uw.pressbooks.pub/climatejusticeandenergysolutions/chapter/listening-to-the-frontlines-the-jemez-principles/
[34] https://www.yesmagazine.org/environment/2021/11/29/climate-reparation
[35] https://www.nytimes.com/2022/11/03/climate/united-nations-funding-climate-adaptation.html
[36] https://gceurope.org/global-north-and-global-south-how-climate-change-uncovers-global-inequalities/
[37] https://usun.usmission.gov/remarks-by-ambassador-linda-thomas-greenfield-at-a-un-security-council-debate-on-climate-and-security-in-africa/
[38] https://www.powershiftafrica.org/storage/publications/10_Adow-1_1638878872.pdf
[39] https://priceofoil.org/2022/03/22/new-study-charts-a-stark-pathway-towards-an-equitable-end-of-global-oil-and-gas-production/
[40] https://www.thenation.com/article/environment/climate-reparations/
[41] https://www.earthrise.studio/reads/the-case-for-climate-reparations
[42] https://www.aljazeera.com/news/2022/9/25/why-are-climate-activists-calling-for-reparations
[43] https://jubileedebt.org.uk/wp-content/uploads/2021/10/Lower-income-countries-spending-on-adaptation_10.21.pdf
[44] https://unfccc.int/topics/climate-finance/the-big-picture/climate-finance-in-the-negotiations
[45] https://www.nytimes.com/2021/10/25/climate/100-billion-climate-aid-cop26.html
[46] https://www.nature.com/articles/d41586-021-02846-3
[47] https://www.preventionweb.net/news/wealthy-countries-still-havent-met-their-100-billion-pledge-help-poor-countries-face-climate
[48] https://unfccc.int/sites/default/files/resource/54307_2%20-%20UNFCCC%20First%20NDR%20summary%20-%20V6.pdf
[49] https://www.nature.com/articles/d41586-021-02846-3
[50] https://www.wri.org/insights/loss-damage-climate-change
[51] https://www.nytimes.com/2022/11/19/climate/un-climate-damage-cop27.html; https://ittakesroots.org/cop27/